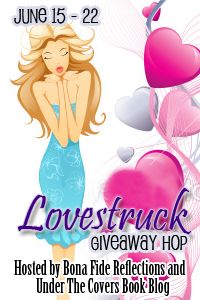 LOVESTRUCK GIVEAWAY HOP
Question:
Is there a book or a series that you have read which has left you completely smitten? A hero/heroine that makes other heroes/heroines pale in comparison to the feelings you have for your "true" love? Are you left feeling dissatisfied because there is just nothing else that can compare?
Answer:

Hell to the mother ucking yes there is!
Downside Ghosts

by Stacia Kane is one of my favorite series out there and has one sinfully delicious hero that I am completely crazy about. Terrible, I adore you and let me tell you lovely reader why.
<3 ~~~ He has tattoos. I am an avid fan of tattoos. It's beautiful art that can express and define a person when words cannot. Terrible has them. Many of them. First this quote from Unholy Ghosts when Chess finds Terrible at the tattoo parlor...
It was strange to see him without a shirt on, though. Chess tended to think of his bowling shirts as armor, and stripped of them he…well, he still looked like a tank.
A surprisingly attractive tank. Tattoos and scars decorated his bare skin and a patch of thick dark hair spread over his chest and dipped down in a thin line to his waist, but underneath them was solid, sculpted muscle, exquisitely delineated, obviously created from real work and not trips to a gym.
He glanced at her, then looked again with an eyebrow cocked, and she realized she was frankly staring. Heat rushed to her face as her fingernails suddenly became fascinating to her. It wasn't until she heard him saying goodbye that she looked up again.
and another insert from Unholy Magic
Chess set her beer down and stood in front of him, angling herself between his long sprawled legs so she could open his collar all the way. Daring herself to read it, to stand this close to him.
Ego vos mergam, nec merger a vobis. I sink you, that I will not be sunk by you.
When she looked up he was watching her, his face immobile. The half-healed wound under his eye made a dark slash on his cheekbone, blending in with the scar above his lip, the bent and crooked nose, the simian brow. Funny, she couldn't remember the last time she'd noticed any of those things, really seen them, whereas once they'd been all she could see.
"What does it say?"
He shrugged. His gaze transferred from her to a point just beyond. "Only know it Englished, dig. Ain't pronounce the Latin." She could—Latin was a required Church subject—but she didn't tell him that. Instead she repeated, "What does it say?"
Pause. Beneath her fingertip his pulse kicked steadily. She glanced at it, watching it move. He trusted her to touch it. Trusted her to touch him. To stand this close. Trusted her with his biggest secret. What would he do if she put her mouth over that vein, gave that soft skin a gentle nibble? Would he trust her still, would he let her?
"Says you try and fuck with me, you get fucked," he said finally. His eyes came back to hers. "Says I get you first."
<3 ~~~ We also have his style. The hair and pomade, big sideburns, Elvis comparisons... I am a big fan of Rockabilly, Punk Rock, well, music in general but his style and listening preferences are right up my alley. We get this quote from Unholy Ghosts...
"Thought you was good with the spook stuff," he said. "You look like some dead."
"And you look like Elvis vomited you up," she managed. "So?"
Hinges creaked in her ears again as he laughed. "So we both looking bad, guesses. But I do always, and you do never. You right now?"
and lets not forget the song that was playing at Tricksters not once but twice during very memorable moments.
<3 ~~~ He has a badass car. How silly is it that I really want a 1969 black Chevelle? I much prefer the cars of the 50's and early 60's but this is a pretty hot car. You would be able to hear him coming a mile away.
<3 ~~~ Now I should wrap it up though I could go on and on and on... Chess is not an easy person to deal with. She has drug problems and personal problems. His patience with her is great. For those of you who have read this series, you'll know what I'm talking about. There is a scene in a house with a major snowstorm going on. Terrible is so selfless helping out asking nothing in return. He admits to not being booksmart but is street smart and, to those he cares for, a genuine and caring person. In his own way. Here are some of my favorite quotes that show his sexy, sweet side.
"Shit. I want you, Chess. Make no mistake on that one, dig? Want you bad. So bad I ain't even can think of any else sometimes, 'cept gettin you under me. Ain't give a fuck what pills you swallow get you through the day or what happens you ain't got em, aye? Still want you."

(UM)
"I figure you really wanted me you'd say. Like now, maybe, if you dig. I'll fuckin carry you down your place on a run, you tell me aye, get you on your back afore the next word comes out your mouth. But you oughta have yourself certain, causen I ain't lookin for charity, an I ain't lettin you go after. Once...once ain't enough for me, dig?"

(UM)



"You know I do, aye? Love you right, Chessiebomb."

(CoG)
"Chessie … shit, Chessie, I love you so bad." His teeth on her throat, biting hard, his lips soothing the spot. "So fucking much, so … so bad."

(SM)
That's right! And now it's giveaway time!!! Enter below for your chance to win a $10 Amazon Giftcard!

This Giveaway is open Internationally.

Good luck everyone!
a Rafflecopter giveaway